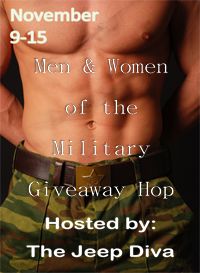 Welcome to
Men and Women of the Military's Blog Hop
hosted by
The Jeep Diva
!
For those of you familiar with my books you know that I have written my share of military heroes. While I have written military men, I've never tackled a military woman or heroine in my books. Which makes me think that is definitely something I'll have to consider for the future.
I'm currently writing my 7th book which has a military back story to it, but for this blog hop I decided to spotlight my baby... my series that started it all... my Navy SEALs Series,
Sweet Awakenings
.
Every single one of these books is near and dear to my heart. So much so that it was hard to tie everything together in book 4 and type "The End". But, all good things must eventually come to an end so we can move on to the next thing, right?
Leave me a comment below (along with your email address) and tell me what branch of the military you want to see in a book. I've written about the SEALs since 2009. What do you want to see next? Two randomly chosen commentators will receive their choice of one of any of my SEAL books above.
Don't forget to stop by the many other stops on this hop (listed below) to increase your chances to win some AWESOME Prizes!!!